U.S. Junior Nationals
USJN Basketball is the longest running national evaluation and college showcase organization in women's basketball.
USJN Basketball Events
Event Details
Blue Star Nationals - 14th Annual
This event is operated by USJN

07/10/2022 - 07/12/2022
Ages: U15, U16, U17
Games: 5+
Fees and Registration
Registration Fee: $675.00
Registration Deadline: 07/07/2022
Early Registration Discount Available
$575.00 by 04/10/2022
Sign UpSchedule / ResultsWho's Coming / WatchingWatch on BallerTVReturn to List
---
Event Information
Event Coordinator: Chris Mennig cmennig@usjn.com
NCAA APPROVED FOR D1 COACHES TO ATTEND FOR THE 14TH STRAIGHT YEAR!
CLUB & COLLEGE CHECK IN AT THE FRONT OF THE NORTH HALL STARTING AT 7AM OF THE 10TH
14th Annual - Division I College Exposure Event NCAA APPROVED FOR D1 COACHES TO ATTEND FOR THE 13TH STRAIGHT YEAR! -will be operating just down the hallway from Nike Nationals / TOC in McCormick Place.
Historically has seen nearly 300 college coaches in 2017, 2018 and 2019. Event that will only take 60 teams to compete. One age division. VERY LIMITED SPACE
2 games on the 10th (starting at 8am), 2 games on the 11th, and minimum of 1 game on 12th (Playoffs - done by 6pm)
Venue Information
McCormick Place (NORTH HALL)
2301 S King Dr
Chicago, IL 60616
Courts: 5
Get Directions
Live Stream Information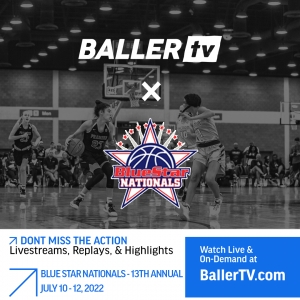 Admission Information
Admission for Blue Star Nationals will be run by TOC as spectators can watch both events - https://www.thetoc.org/product/tournament-of-champions-2022/ ** You can pre-purchase at this link ** All U.S. Junior Nationals Tournaments, Blue Star Showcase Events, and Blue Star Camps are subject to cancellation due to unforeseen circumstances. In the case that we have to cancel, we will notify all registrants as soon as possible and refund the registration fees. All hotel reservations, travel, or other cost, are the sole responsibility of the registrants. Therefore, U.S. Junior Nationals and Blue Star Productions will not be held liable for any of those costs incurred in the event of a cancellation. All special requests must be entered on the team page at the time of registration. We are not able to process emailed requests. No requests are guaranteed.
Hotel Information
---
Sign UpSchedule / ResultsWho's Coming / WatchingWatch on BallerTVReturn to List