U.S. Junior Nationals
USJN Basketball is the longest running national evaluation and college showcase organization in women's basketball.
USJN Basketball Events
Event Details
Mountain Madness: 16th Year
This event is operated by USJN
07/21/2023 - 07/23/2023
Ages: U12, U13, U14, U15, U16, U17
Games: 5+
Fees and Registration
Registration Fee: $685.00
Registration Deadline: 07/16/2023
Early Registration Discount Available
$595.00 by 05/21/2023
Sign UpSchedule / ResultsWho's Coming / WatchingWatch on BallerTVReturn to List
---
Event Information
NCAA CERTIFIED D1 EVENT
Event Contact: Chris Mennig cmennig@usjn.com
16th Annual event see's over 100 teams and 100 college coaches annually to the region for the past 5 years!
FRI - 1-2 game(s)
SAT - 2 games
SUN - 1-2 games
If sending multiple teams contact office for $50 discount code - office@usjn.com
COLLEGE COACHES - please pre-register by emailing college@usjn.com. Check-in is at TBA ONLY
Venue Information
Fieldhouse USA
14200 E. Alameda Ave
Aurora, CO 80012
Courts: 4
Get Directions
Northfield High School
5500 Central Park Blvd
Denver, CO 80238
Courts: 3
Get Directions
Live Stream Information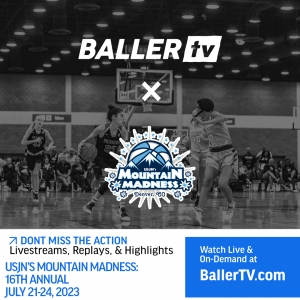 Admission Information
Adult Weekend Pass - $55 / Child Weekend Pass - $30 : ADULT DAY PASS 21st $15 / 22nd $25 / 23rd $25 : STUDENT DAY PASS 21st $10 / 22nd $15 / 23rd $15 All U.S. Junior Nationals Tournaments, Blue Star Showcase Events, and Blue Star Camps are subject to cancellation due to unforeseen circumstances. In the case that we have to cancel, we will notify all registrants as soon as possible and refund the registration fees. All hotel reservations, travel, or other cost, are the sole responsibility of the registrants. Therefore, U.S. Junior Nationals and Blue Star Productions will not be held liable for any of those costs incurred in the event of a cancellation. All special requests must be entered on the team page at the time of registration. We are not able to process emailed requests. No requests are guaranteed.
Hotel Information

TCI Housing
Main Street
Denver, CO 00000
**This is a STAY TO PLAY event - so please access the HOTELS area of our event page to find a property. Booking rooms through TCI Housing is a requirement of participating in the tournament; therefore, if hotel rooms are not booked through the appropriate means, your team will not be scheduled for play. Should you wish to opt-out of this housing service, you must contact TCI Housing to ask for approval to do so and pay a $250 opt-out fee per registered team.**
---
Sign UpSchedule / ResultsWho's Coming / WatchingWatch on BallerTVReturn to List